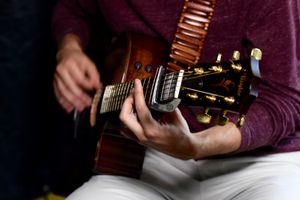 ADRI LAVIGNE
Singer/songwriter | composer | author
Independent Professional Singer/Songwriter, Composer, Author, & Guitarist.
French-American musician who moved from France to the US, then Argentina, Spain, and the Netherlands. Adri self-taught himself how to play acoustic guitar & write songs at the age of 8 years old. He has been sharing his passion for songwriting with his dad and Rock'n'Roll artist, Chris Lavigne, ever since he was a kid. 
Over the years, Adri has composed hundreds of songs for himself and for others, and released about 40+ original songs on all music streaming platforms under different artist names in collaboration with various renowned musicians, producers, and sound engineers.
Now based out of Amsterdam, NL, Adri composes in French, English, and Spanish and works with clients & musicians all over the world specializing in composing for licensing & creating custom songs for clients, on top of releasing his own original work.